March 12, 2020
COVID-19 Updates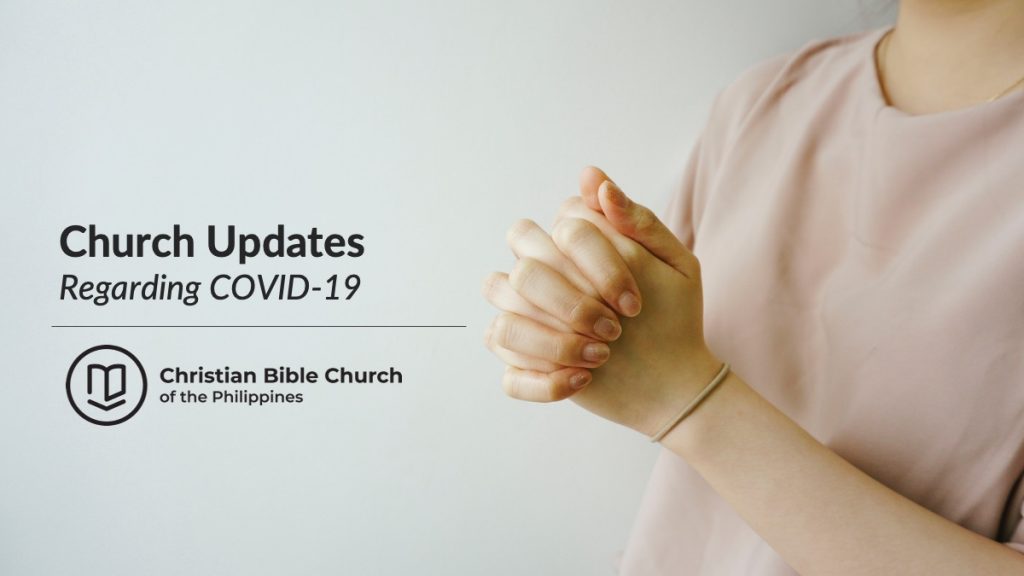 Read on for the latest updates from the church.
For real-time updates, join the CBCP Viber Community or the CBCP Telegram Broadcast Channel for leaders, members, and attendees of CBCP.
---
Update for November 15, 2020
Christian Bible Church of the Philippines will continue to hold its services and ministry activities online until further notice.
Notable developments for @CBCPonline
While this pandemic has presented challenges for our church, God has been gracious and allowed us to discover new ways to do things in this new normal.
CBCPOnline Sunday Messages. We now publish all three services (in Chinese, English, and Tagalog) on several platforms, including
CBCPOnline Worship YouTube Channel. The worship & music ministry of CBCP is now publishing covers of worship songs for our online services.
Official church communications have moved online with broadcast channels through major messaging apps.
New contact numbers. With the church staff working from home, we now have new mobile numbers to better respond to inquiries (during office hours):

Member Services Department: 0917 321 2227
Life Groups Department: 0917 307 2227
New Guidelines
The following guidelines are in effect until further notice.
Weddings. The church has published COVID-specific wedding guidelines for couples who wish to exchange their wedding vows at CBCP.
Child Dedication. All child dedication ceremonies are now held online. To book some time for a dedication event with the office, please fill-up the online child dedication form.
Questions or concerns?
Our church staff will continue to respond to inquiries received through our Contact Form during normal office hours. Thank you.
---
Update for March 27, 2020
Join the Fight against COVID-19 by supporting medical front-liners and vulnerable communities.
Update for March 13, 2020
We answer your Frequently Asked Questions about our response to COVID-19.
Update for March 12, 2020
In light of the government's guidance as announced earlier this evening by President Rodrigo Duterte, the church is suspending all activities until further notice.
In addition to previously announced suspensions of activities, the following changes are now in effect.
Sunday Messages will be available online
Sunday Worship services are paused indefinitely. We will continue to upload our Messages to our website. You will always find the latest message at https://cbcp.org/messages.
Worship Team rehearsals are suspended until further notice.
Both our Talayan Facility and Discipleship Center will be closed
Effective immediately and until further notice, the church's two sites – the Talayan Village facility and the Discipleship Center – will be closed. Access will be restricted to essential personnel only.
In-Person Meetings are Suspended
In-person meetings for Life Groups and Journey Groups are now suspended. We strongly encourage group leaders to adopt online alternatives, such as:
Zoom – Free video chat up to 100 participants, max of 40 min/meeting.
Facetime – Group Facetime for up to 32 people.
Hangouts – Group video chat for up to 10 people.
Chat meetings via your preferred apps (Viber, Telegram, Facebook Messenger).
We will continue to update you about our church operations as new developments arise. Let us all pray for God's mercy as we do our part to respond to the challenge that now faces our nation.
---
Update for March 11, 2020
Christian Bible Church of the Philippines joins our community in prioritizing the health and safety of every individual. As the number of confirmed cases in the country and our city is still rising, the CBCP Covid Task Force has decided to take on the following measures (subject to change based on rulings/resolutions from local government officials).
Postponed Events
The following events have been postponed until further notice:
March 29 Thanksgiving Dinner
April 5 Anniversary Worship Service
April 5 Discipleship Center Dedication Service
Temporarily Suspended Ministries & Fellowships
Effective immediately and until further notice, the following activities are temporarily suspended:
KiDS Worship
Women's Fellowship
Men's Fellowship
Choir Practices (Main Choir, Heavenly Voices, M.O.S.T & Children's Choir)
Youth Crash Core-s
Friday Bible Study with Rev. Cheung
Life Groups and Journey Groups
See updated guidance posted on March 12.
Worship Services
See updated guidance posted on March 12.
We will continue to monitor the situation and will be announcing further guidelines as the situation evolves.
---
Update for March 10, 2020
A Message from the Senior Pastor
Dear CBCP Family,
Thank you for staying calm and alert as our city responds to the latest news about COVID-19. Visit https://cbcp.org/covid19 regularly for the latest announcements from the Church's task force that is monitoring and assessing the situation.
The church is acting out of an abundance of caution because we want to do our part to help avoid the sustained transmission of the virus. We are not aware of any church member having been infected, but we don't want to wait for a confirmed case before we take precautions.
As we have been learning from our ongoing message series, moments where we face trials and crises are moments that draw us near to God. Let us faithfully pray for our fellow members, our country, and the world.
Sincerely,
Rev. Jeremiah Cheung
---
Task Force Advisory
The task force encourages all church members and attendees to exercise prudence and wise judgment when it comes to social distancing and meetings.
Seniors are urged to consider staying at home.
3/11 rehearsals for the Heavenly Voices Choir have been suspended.
3/11 and 3/18 meetings for the Men's Fellowship have been suspended.
3/12 and 3/19 meetings for the Women's Fellowship have been suspended.