March 13, 2020
COVID-19 FAQs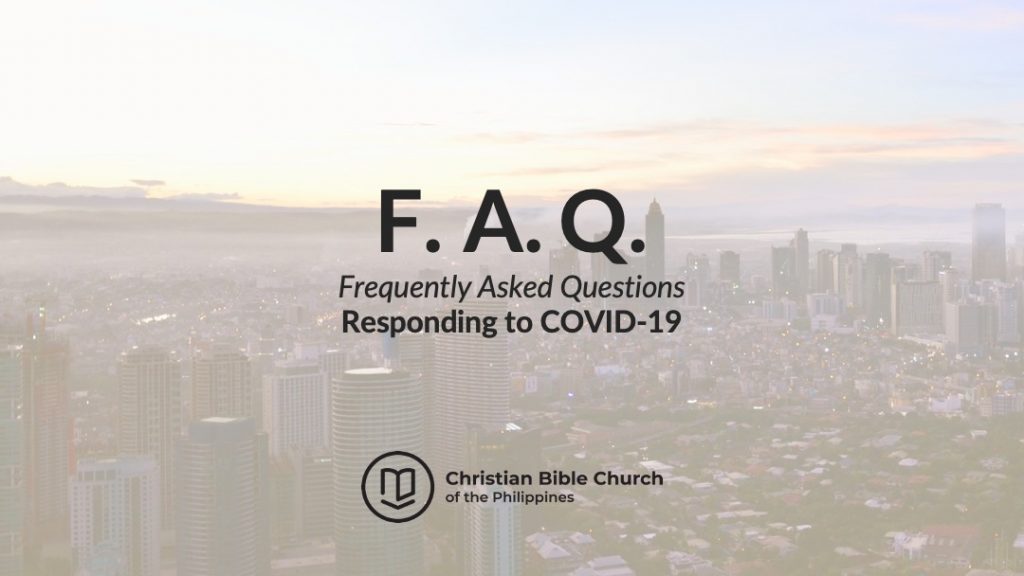 Responding to COVID-19
1. How is CBCP responding to the situation?
All gatherings and ministry activities are suspended until further notice. We will use online alternatives for our three key ministries: Worship Services, Life Groups, and Journey Groups.
2. How will we do online worship on Sundays?
We will publish our Sunday Messages on the church website at cbcp.org/messages. The videos for each week will be viewable on Sundays starting at 8:00 AM.
💡Tip: Subscribe to our Facebook page (www.facebook.com/cbcponline) or Email newsletter (http://cbcp.org/subscribe) to be notified when the videos are available.
3. Are the online services being live streamed?
No, our messages will be pre-recorded earlier in the week and published online on Sunday mornings so we can continue to worship at the same time from our own homes.
4. Will our church building be open to visitors?
Both the Discipleship Center and our Talayan Facility are closed until further notice. Access is restricted to essential personnel only. We will update this guidance as the situation evolves.
6. How can we give our offerings and tithes to the church?
Offerings, tithes, or donations can be deposited to the church's bank accounts.
💡Tip: Consider using online fund transfers.
Banco de Oro
Christian Bible Church of the Philippines, Inc.
Account # 00-381-012-9253
Grace Park – 9th Avenue Branch
China Banking Corporation
Christian Bible Church of the Philippines, Inc.
Savings Account # 1424-0000-1684
Scout Borromeo Branch
Metro Bank Corporation
Christian Bible Church of the Philippines, Inc.
Savings Account # 065-3-06513777-2
Quezon Ave cor Cordillera St. Branch
6. How can we contact the church?
The church staff will be responding to inquiries received through our Contact Form during normal office hours. We ask for your understanding as we deal with a larger than usual number of inquiries.
7. What can I do at this time to help?
Please join us in prayer. Pray for our country: our government officials, the medical personnel on the frontlines, the people who have fallen ill and their families.
Stay at home as much as possible. Practice social distancing and take preventive measures as an act of love for the people around you.